Bride's Hand Crafted Rose Bouquet (12) roses
Groom's Rose Boutonniere
Professional Photography - 20 digital images (posed or candid)
Digital Video of Ceremony
State Sales Tax
Limo Service
Limousine Chauffeur's Gratuity
Minister's Fee
Red Rock Entrance & Permit Fee

Duration: 3 hours.
Notes
Due to strict schedules, couples must obtain the marriage license on their own! If renewing vows or the couple wants a non-legal ceremony, then a license is NOT required.
Love the great outdoors? A white, stretch limousine will pick you up from your hotel and you will be driven to beautiful Red Rock Canyon, an outdoor paradise famous for it's red sand rock beauty and desert grandeur. From a vantage point that overlooks the Red Rock Valley, you will exchange your marriage vows amidst a protected environment that offers a pristine backdrop for wedding photography. We recommend morning or late afternoon for this breathtaking matrimonial experience!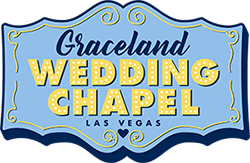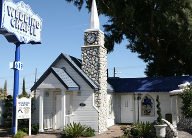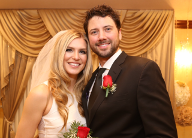 Home of The World's First Elvis Themed Wedding
Home of The World's First
Elvis Themed Wedding